The word "yakishime" refers to pottery that is fired without any applied glaze. Of course, natural ash glaze builds up on the pottery in different ways during a wood firing and thus, "yakishime" is a broad term covering many types of wood-fired pottery effects. One type of yakishime I'm quite interested in learning is hi-iro ("fire-color") … or so I believe. The truth is, I'm beginning to doubt my desire to some degree because I keep doing things that are completely contrary to production of hi-iro. Perhaps I'm simply not ready for hi-iro yet.
Musings aside, before the last anagama firing I mixed up a batch of "clay" which I had hoped would develop colorful hi-rio (I say "clay" in quotes because it had very little actual clay in it). I must have been drunk or distracted because what I made was something destined to be glassy — and I knew that as I was dumping everything together — I just didn't really think about it. Secondly, I did a two hour period of quick cooling at the end of the firing in which I used this clay. Quick cooling an anagama brings out the gloss and wipes out orange and red. As I mentioned — my actions say I want glassy shizenyu, not hi-iro.
CORRECTION — I mixed up my measurements here and after making this clay the other day, I wondered why it was so darn short and unthrowable compared to the first batch — looking back at my notes, I see halved the clay measurement and doubled the feldspar. That should make an interesting test!
Here's the recipe. Take note however, all measures are volumetric — no scales were harmed in the making of this "clay":
40% 20% Custar Feldspar, crushed 10 mesh (not powder)
40% silica
20% 40% Lincoln Fireclay
As one might expect with all that glass making stuff, I didn't get bright orange fire-color. Regardless, this clay is yummy. The anagama gave me a shizenyu piece that ranges from steel-blue to aquamarine. The glaze surface is exceptionally deep and three-dimensional. Some of the feldspar granules were too tough to melt and the white speckles give it a coarsely polished-rock sensibility — sometimes sharp, sometimes smooth. I love its obsidian rock-like qualities.
On the downside, throwing this clay is like throwing knives — not in the circus sense of course, but imagine a clay body full tiny blades. That's what this one is like. If you make it, I suggest you sacrifice some sponges instead of your fingers.
Enough chatter though, pictures are worth more. Do note, the chunk taken out of the rim is my fault. In my exhaustion at the end of loading the kiln, I grabbed this jar roughly: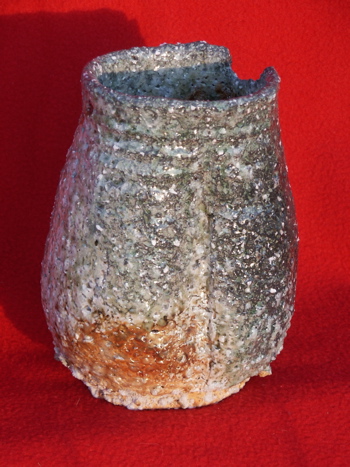 enlarge
Color in protected areas isn't bad: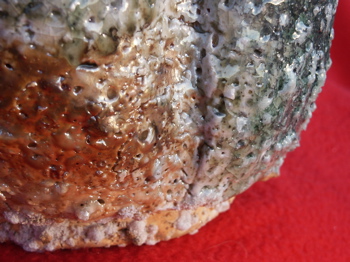 enlarge
Oily streams over clear glaze. In person, this glaze is deep — it's possible to see under the streams which float over clear layers: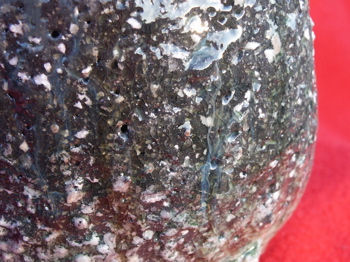 enlarge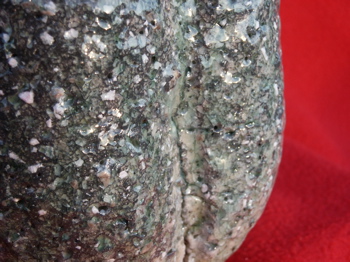 enlarge
The sort of fuzzy white looking stuff on the foot is bonded but unmelted sand. I didn't wad this piece — I just set it on the floor sand. But what a nice blob of multi-dimensional glass in the center this shot:

enlarge
The following pictures show something very interesting about this clay. First, this piece is simply a small cup. In the shelf failure that ensued in the 6th firing, it was pushed up against something at the place you see the blobby brown scar. When it was detached, a chunk of the piece was pulled away below the brown patch.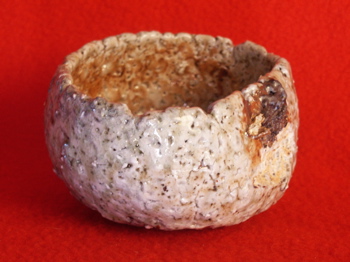 enlarge
Here is a detail of that area. Note the peach colored network surrounded by cells of white body — that peach colored material is the fireclay. Everything else is glass from the silica and feldspar. This "clay" is mostly glass with some fireclay glue to make it stick together and hold its shape.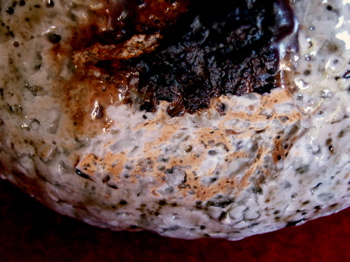 enlarge
I'm curious about what this clay would do in a regular gas firing. If you should conduct such an experiment, please send me a picture.