One of the ultimate joys of pottery is burning things. So when a friend of mine gave me a lump of clay that he dug up while in the process of building a foundation, I grew quite excited. Finally, I had an excuse to drag out the raku kiln, flare off some propane, and singe my eyebrows a bit.
Last Friday afternoon, I stopped by my friend's office and picked up a chunk of his property — neatly contained in a ziplock bag. Then on Saturday, I pounded up the block by wrapping it in a heavy plastic bag and sieving out the powder.
Full Size Image
Full Size Image
Full Size Image
Once I had a bowl of dust, I took it into the studio and made four test clays (all measures volumetric, not weight based):
100% test clay. Back right in photo below.
One part test clay, one part Helmar kaolin. Back left in photo below.
One part test clay, two parts Helmar kaolin . Front right in photo below.
One part test, one part Helmar, 2/3 part silica, 2/3 part Custar feldspar. Front left in photo below.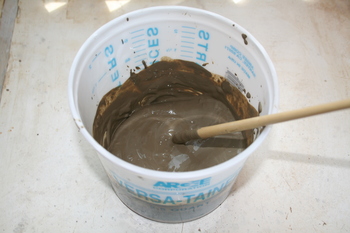 Full Size Image
I poured each test out like a pancake on the wedging table with Silver watching and perhaps wondering if they were tasty cakes for cats. After a few hours, I was able to wedge the clay into four little balls. From these, I quickly whipped up eight pinch pots and marked the bottom of each piece with the number corresponding to the test clay. Each of the clays was pretty short and edges tended to break and separate.
Full Size Image
Full Size Image
Full Size Image
Sunday came like Christmas morning — a burning day — and I returned to the kiln great anticipation. Unfortunately, Saturday night was comparatively cool and the pieces had not dried — they were at the perfect leather hard trimming stage. I decided to fire them anyway. Besides, what better to fire wet pottery than a wet kiln?
I haven't used the raku kiln in a long time and so when I pulled the tarp off the base bricks, they had all turned green with mold. Additionally, an entire colony of snails was living quite cozily in the moist damp undersides of the tarp. As an aside, I wonder if this has been the source of the large snail population this year. I find it disturbing to walk around in the grassy area behind the studio — it seems that every fourth or fifth step results in the sickening pop-crunch of a snail being smushed.
Full Size Image
Full Size Image
After rescuing as many snails as I could find by putting them out in the tall grass areas in which I don't walk, I set about loading the raku kiln. Because the pieces were substantially wet, I placed the shelf high above the burner port to reduce the risk of explosion. Then I candled the kiln at the lowest reliable flame, gradually increasing the temperature until the pieces appeared dry when I peered into the kiln. Once I got to that point, the fun began. I removed the regulator from the propane hose so I could a big jet of flame, and gradually began raising the temperature. Once I hit red heat, I let it roar. When that burner is tapping propane straight from the tank, it sounds like a jet engine.
Full Size Image
Full Size Image
I knew I couldn't get to cone 10 with the raku kiln, but during the firing I began to wonder how high I could go. I grabbed a spare unused pyrometer I had laying around and inserted the probe between the brick base and the fiber kiln body. Toward the end of the firing, I stoked a medium sized log into the kiln — chopped up into kindling of course — stoking two small sticks at a time. Eventually, I was able to get to 2200 F and held it there for a short time (given enough time, this would equate to about cone 5 when firing quickly). It was a hot day and the wood chopping, such as it was, made it seem hotter. I figured that was good enough for a test and called the firing.
Full Size Image
I was intending to open the kiln raku style right then, but I suddenly realized I was wearing shorts and had brought no pants, so I just closed up the kiln and decided to wait till it reached a temperature that wouldn't blister my legs. Eventually, the temperature dropped and I was met with an amusing sight — a lovely puddle of glaze where the "pure" dug-up clay cup had been:
Full Size Image
Full Size Image
Results:
#1: 100% dug-up clay. I love this glaze with the subtle variations of black and brown. A hot mud spring frozen while burbling — or a really flat cup (below):
Full Size Image
#2: 1:1 | dug-up:Helmar. This piece is slightly self-glazed (below):
Full Size Image
#3: 1:2 | dug-up:Helmar. This piece is quite dry (below):
Full Size Image
#4: 1:1:2/3:2/3 | dug-up:Helmar:silica:custar feldspar (below):
Full Size Image
#4 is rather interesting. It is self-glazing and incredibly porous — I know this because I broke it a little prying it off the shelf and the clay body is full of pinhead size holes (you can see the scar on the rim in the picture above). Perhaps it would make interesting insulating mugs. The porosity makes it feel extremely light though — so light that it feels "wrong" somehow.