I recently interviewed Gas Kimishima, a native of Japan residing in England. Gas found that after moving to England, he became somewhat homesick for Japan, but that he could find solace in ancient wood fired Japanese pottery. Download the episode directly or through iTunes (mp3, 60:00, 55 mb).
Note: The iTunes link requires iTunes to be installed on your computer. If you do not have iTunes, use the "direct" link — it is probably most convenient to right click the link, choose "save as" from the context menu, and then listen to the file in your preferred player after it has downloaded.
Gas' quest for a touch of his home country led him to acquire broad knowledge about medieval Japanese wood fired ceramics. Wanting to understand the pottery he loves on its innermost levels, Gas delved far beyond simply studying pieces and identifying techniques — he began building his own wood fired kilns and making pottery to fire in them.
Gas' expertise has been of use to collectors and museums, as well as to himself in his work as an art dealer. His next project will be assisting the Fitzwilliam Museum (Cambridge England) in cataloging about 200 Japanese wood fired wares it has had in storage for some time, but which have not been appropriately identified for display. Gas has also been building a comprehensive website over the years. Take a peek at his kiln building, his pots, and a very informative section on identifying various wood fired effects. (I want to emphasize this last link — it is very helpful)
As for his "hands on side", Gas is a prolific kiln builder. In the last dozen years, he has built thirteen kilns — six of which have been anagamas. He prefers to build his kilns following traditional yet simple designs — for example, his kilns have no ash pits or complicated damper systems. His designs were influenced by his visits to archeological kiln sites in Japan as well as his discussions with Japanese potters practicing the ancient wood fired arts in our modern times. I was surprised to learn during the interview that Gas discussed kiln building with Furutani Michio, a potter whom I greatly admire (about Furutani: reference 1, reference 2, reference 3). Gas has also experimented with mini-anagama designs which were influenced by the side-draft wood kilns of Thailand.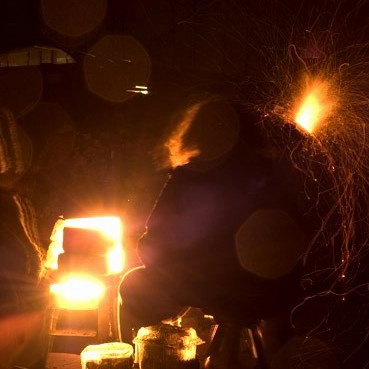 Photogallery
During our interview, Gas brought up an idea that I had not considered before, but left me quite intrigued. Ask yourself this question: should a bowl or cup weigh an amount that is similar to how much it looks like it would weigh, more than its appearance suggests, or less than one would guess by looking at it? Gas' insight into this question is that if the cup or bowl is lighter than one expects, it will be pleasurable because a functional piece is completed only when it contains food or drink, substances which add weight. Thus a perfectly formed bowl or cup will weigh less than one might guess, and feel just right only when in use.
Stop and think about that for a while. It's a fascinating idea and very different from what I was taught in college. I'm going to put this idea into practice, though I imagine it is nearly a feat of true magic to make a cup feel lighter than it looks. I sense much hard work and many failures in my future.
As a final note, receiving email from Gas is a pleasant experience — he always includes a lovely image that can somehow make one simply stop for a moment, and let the hectic world pass by.
Photogallery