The gas burner is howling away. The loading mess is all taken care of … at least insofar as I ever take care of mess. My dual tank regulator is awesome. When one tank starts to freeze up, I just throw the switch to the second. By the time that one is freezing up, the other has thawed and I throw it back. When one gets too low, I can switch it out without shutting off the burner. It's really lightened the work of tank switching — tanks are heavy and my back thinks this regulator was a great investment. Here's the setup: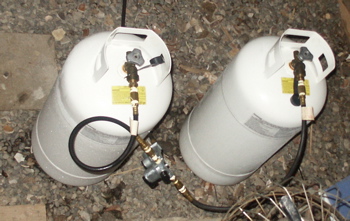 My temperature at present is around 8 mV (millivolts) in the front. It's too cold to go back outside and check the temperature in the back Perhaps for the next firing I'll network my kiln monitor so I can check it from inside — not during the wood firing portion of course — but the gas preheat stage doesn't take much "in person" time.
So what's with the temperature in mV? Find me a dual port pyrometer with digital output which allows a time and temperature graph to be generated in real time and displayed on a monitor for $80 or less. Good luck. Hmmm — make that $140 (I got mine on sale three years ago) but still, I suspect it is difficult to find a two port pyrometer with data output for that price. For what it's worth, a pyrometer is nothing more than a voltmeter with a scale in degrees. Besides, I'm only interesting in what the temperature is doing (rising or falling) — I don't care what temperature a pyrometer reads. Pyrometers are notoriously inaccurate at high temps anyway.
Whatever temperature 8 mV is, the chimney has been steaming all day and earlier, I know I smelled the smoke of the rice bran in the wadding burning off: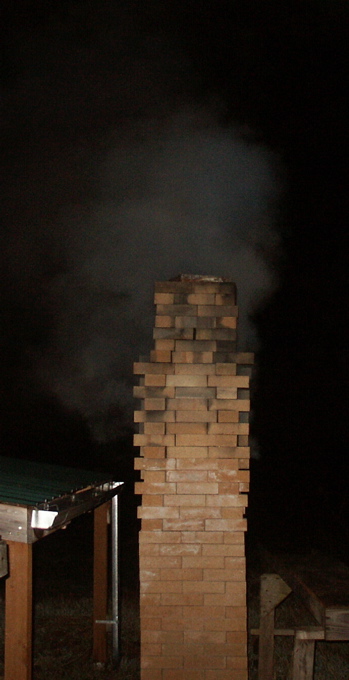 And isn't this a great picture of spot? Obviously pre-loading but still: