Today, I managed to get most of the way through the last major task I wanted to finish before loading day (March 26, 2006): I closed off a corner of the galley level. I won't go into the firing pit configuration, that is outlined extensively in my section about building the kiln.
The current galley configuration: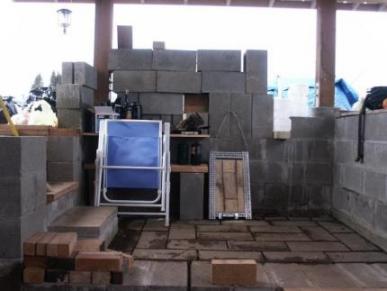 This configuration wasn't designed, it was simply hastily made before the first firing. The blue chair is in front of a shelf on which I set the campstove. A 20# propane tank currently sits to the right of the shelf (not shown in this picture obviously). With the stove, tank and the hose, very little of the galley deck remains usable. Worse, there is virtually no storage space for food and drinks. Enough, I say!
Today I built a corner wall to the right side of the galley and a floor. Well, I almost finished before running out of wood. The floor is at ground level which makes it waist high when standing on the galley floor. I will move the stove to the new space, put the gas tank outside and run its hose under the floor, and put up some shelves for storage. Stove space will go from about three square feet to 16 — we're talking a Taj Mahal class shack kitchen. And even better, the galley deck will become more than than a mere walkway — I'll be able to put chairs up there for a nice bird's eye view of the action.
Check out the new construction: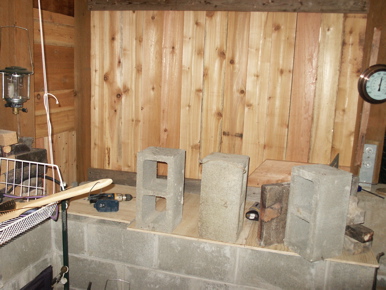 Note, the blocks are on the plywood to weight them while the glue dries. I know I should fill the cinderblock holes with concrete and plant bolts to fasten a cap to the foundation. I'm so sick of mixing concrete and carrying it around I figured I'd take a chance and cheat — so I spent $11 on construction adhesive that's supposed to bond everything. We'll see how it goes — if it doesn't work, I will grudgingly buy a couple sacks of concrete and go that route.
No matter what happens with the glue experiement, I'm still exceptionally pleased that I'm going to have such a capacious cooking area and extra sitting space. Yeah — I'm stoked!!