I built a raku kiln 4 or 5 years ago. Alan (you'll see him below) taught me how to weld and donated some expanded steel. I zipped it up with a MIG welder — the welds are certainly amateurish and a pro would laugh, but it's held up. Welding is a heck of a lot of fun — I wish I could come up with a good excuse to weld often but alas, that raku kiln has been my one and only time. Here's the basic setup: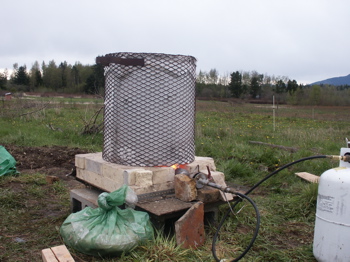 Today, Rachel (green shirt), Tony (red shirt), Alan (picking piece), stopped by to fire off the raku kiln. Every since building the kiln, it has been living at Alan's … but certain changes necessitated its move here to the anagama site. Today was its first firing here (discounting the one that didn't work for lack of a wrench).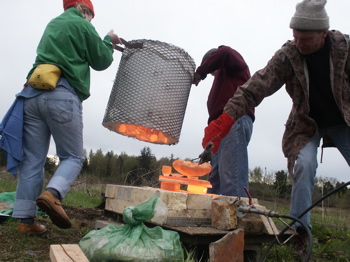 Alan's new and unusual color: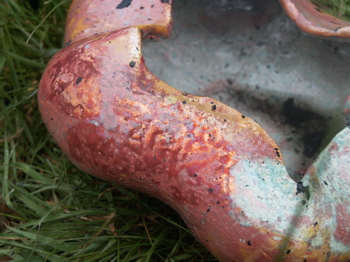 I lost interest in raku quite some time ago — the results aren't really what I'm after. I don't mind white crackle so much but I became disenchanted with bright penny coppers and turquoise blues. Those results are pretty in their way — they merely aren't what I want. However, I do like the actual orange and red colors in Alan's new glaze.
Today I recovered some of the raku spark — could I "once fire" a piece? What the heck — no harm in trying. I went into my studio and grabbed something that hadn't made it into the last anagama firing. It was an unbisqued (I don't bisque) small slab bowl. I applied some white crackle glaze with a brush to the inside of the bone dry piece, and then set it on the kiln during the others' firings in the hope it would dry sufficiently. It spent about two hours drying although I had to remove it between each kiln opening.
When Tony, Alan, and Rachel were done, I put mine in the kiln. I decided to raise the height of the shelf so the piece would be more in the middle of the kiln away from the burner. I hoped that would provide an environment a little gentler than it would receive on a low shelf. We set the kiln shell in place and I covered the outlet hole with piece of metal to keep rain off the piece. I decided I'd let the pottery preheat by sitting in the warm kiln with the burner off for 10 minutes. The firing would end the moment we heard the piece break.
The piece didn't break sitting in the warm kiln, so I turned on the heat a tiny bit and waited for that dull pop of exploding pottery. It never came, so I bumped the heat a tiny bit again. And again. And again. When the paint on the piece of metal started to burn off, I cranked it to a low roar. Still no breaking noise, and the paint crackled into fascinating patterns: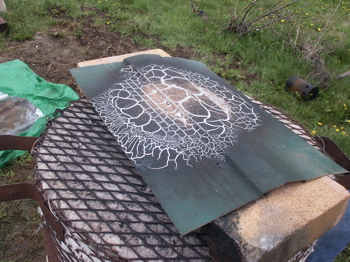 I bumped it up to full throttle. I could see the glaze melting and the piece glowing. After about 70 or 80 minutes, I stopped the burner, Alan and Tony lifted the kiln, and just like any other piece of raku, my once fired bowl went straight into a post firing reduction chamber. I'm in the browncoat (same one I wore to the opening night of Serenity in true geek fashion — I much prefer Firefly though).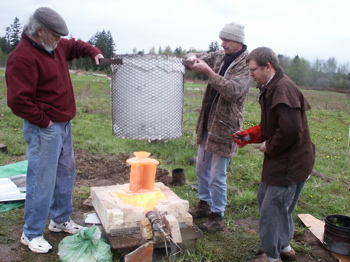 In my impatience, I pulled it out too soon to douse it in water — it was at that point the foot fell off. No matter — I'm confident I can do once-fire-raku again. I won't ever buy a bisque kiln.