I spent the day doing cleanup before leaving the kiln. I'm pretty beat, but I thought I'd post a few pics. Each of these has a 1024×768 version — just click on the smaller images below.
I like this picture of the "cat warmer", AKA: anagama kiln, better than the one I posted earlier. This is from early in the firing. Late in the firing, the cats moved mostly to the chimney area. If crossing the kiln, they did it at a fast trot by the time the kiln was at temperature.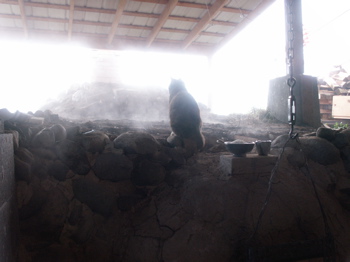 It barely rained during the firing so the cats spent a lot of time sprawled out on the platform behind the chimney. It's there so I can mess with the chimney during firing or place/remove the cap tile brick. I tried to catch them not looking at the camera to avoid the demon eyes issue … I wonder why I failed to think about turning off the sound in the camera — they always look when the focus chime goes off. Sleepiness impairs brain function!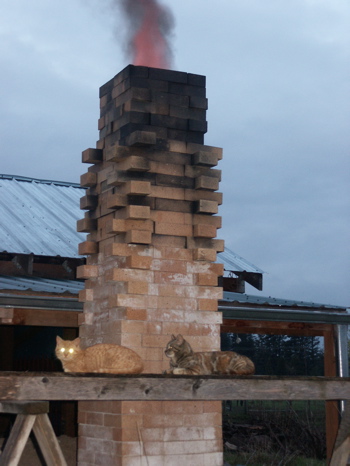 OK, enough about the cats, that isn't what people look at anagama sites for. Here's the pull from about 67 hours into the wood firing portion (note: this time frame includes the day it takes to get to temperature). The firing continued for an additional 30 hours but I had run out of pulls (I broke one accidentally). I should note that these are made of three clays — porcelain and two stonwares. I didn't slip and score, just pounded them into a loaf and cut slabs — the crack separates along a porcelain/stoneware seam.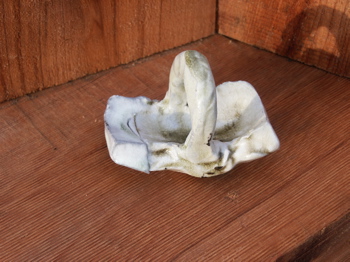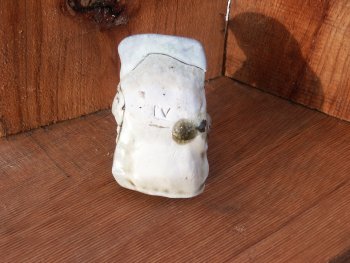 And last for now, here is a peek at the damage done: