I've been meaning to mention Frank Turco for some time now, but haven't due to his gracious gift and my own procrastination with respect to foot grinding. Today however, I found the energy to do some much needed grinding on pottery from the last firing. One of the pieces I cleaned up, was a lovely medium sized bowl that Frank made. Now that it is cleaned up, I can finally post pictures of Frank's work.
Frank is a character. He is an attorney from British Columbia, Canada, and a very good potter to boot. The piece Frank gave me from the last firing is a lovely thrown and altered porcelain bowl, light and balanced without feeling like it would break if hit by sunlight.
Here are some pictures of the bowl I'm speaking about (clicking any picture opens a medium sized copy (1024×768) in a separate window):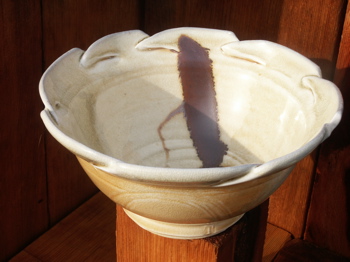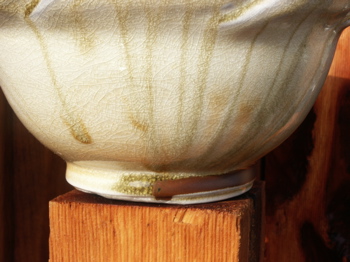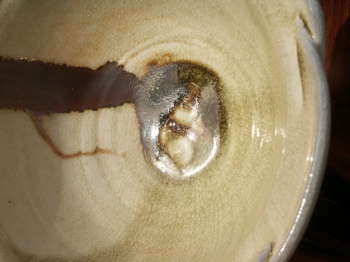 I believe the brown stripes are due to glaze dripping off the ceiling. Oddly though, there is one inside the bowl and outside under the rim. I know Frank glazed some of pieces with a shino, but I'm pretty confident the brown stripes are unrelated. It takes no explanation to understand how the drip inside the bowl could have appeared there. The glaze drip under the rim mystified me for a time — glaze drips don't fall sideways (and if they did, one might wish to consider dampering the draft a bit to prevent inordinate heat loss).
Although this is one of the few pieces that survived the firing, it did not pass through unscathed. There is a contact scar on the rim coupled with a large area on the foot that was bonded to the kiln shelf quite well. The orientation of the rim scar corresponds perfectly with the large foot scar. Plainly, one drip fell into the bowl. Then the shelf failure occured, the bowl tipped onto its side, and a second drip fell on the top side of the pot in its new position.
This bowl, besides being a wonderful piece in its own right, is telling me an important story. It is telling me that the kiln was hot enough and sticky enough to drip glaze over an extended period of time. It's telling me to shorten the duration I keep the kiln at its peak temperature. This doesn't necessarily mean I should shorten the firing, it just means I need to hold off on turning the inside of the kiln into a demons' playground. That should help keep more glaze on the pieces and allow less to drool off onto the shelves.
I'm very happy to have this bowl, not only for what it is, but for the lessons fused with its form.
Enough about that though, this is supposed to be about Frank. First, here is another piece he gave me (click pics for larger view):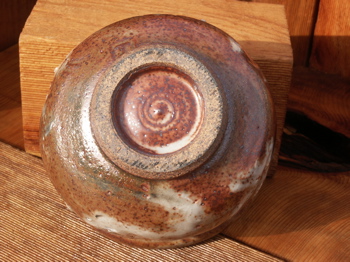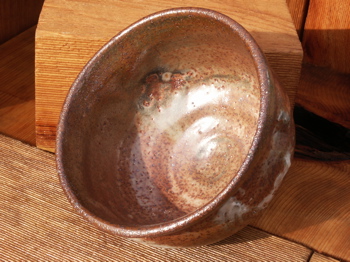 This little tea bowl is from a gas kiln Frank built and fires to cone 10 with a weed burner. He says it roars like a jet plane at the peak of firing — having some experience with weed burners, I don't doubt him at all. I love that he built his own kiln rather than having simply bought one. That kind of self-sufficiency is something I admire. Nor is Frank afraid to get dirty — he's delving into the geology of pottery, digging up local rocks and clays and compounding his own clays, slips, and glazes. This isn't to say he doesn't use commercial mineral products, but having myself spent a fair amount of time digging — I respect the labor involved.
One last little tidbit. Frank has met or is familiar with the work of many many potters. I started to get embarrassed at my lack of knowledge about practically anybody. I tend to be reclusive, but I also realize I need to get out and meet people and see other works — without that exposure, I'm limiting myself.
I hope the last disastrous firing doesn't keep Frank from stoking again — he's a welcome addition to the stoking crew.