Winter has arrived somewhat earlier than normal — the snow has been falling since morning and there is no sign it will be letting up soon. It's very pretty though and of more importance, the white blanket has relieved me from raking duty (the front yard is covered with bits of bark and wood chips from my latest wood chopping session — all of which are now happily hidden from view):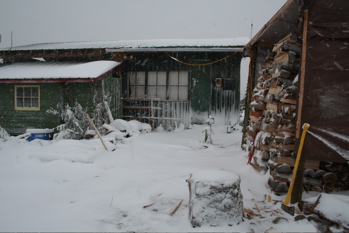 enlarge
While outside, the wind blows, tarps flap, and the shed rattles, inside is warm and cozy. The kiln cats are especially fond of the stove although after snapping this shot, I moved Stripe back from the fire a bit. Cats are flammable after all, and they are worringly inclined to snuggle right up to the glowing ceramic briquette (this shot is actually from yesterday but it snowed yesterday as well):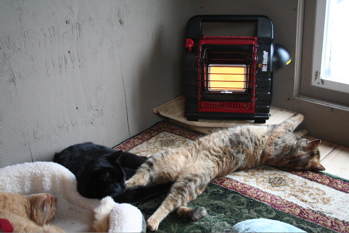 enlarge
A word about the heater. I used to have a "Dyna Glo" heater which looked very similar to this one. Apparently however, it was designed to accept fuel only from the small disposable bottles. After 1.5 seasons of use connected to a 20 pound propane tank, it quit working altogether.
My new stove is a "Mr. Heater" and it's designed to use propane from a bulk tank. As with any Mr. Heater device though, it's rather noisy — it hisses quite a bit on the "high" setting, but tolerably so. On the "low" setting however, it makes such a painful high pitched whistle that I've decided the stove is either on "high" or "off" — "low" is unusable. Nothing is perfect: the Dyna Glo is quieter but only works with disposable bottles. The Mr. Heater is noisy but works with bulk tanks. Now, if someone would just build a quiet heater that could be connected to a 20# tank, I'd pay double!
And on the topic of fuel sources and payment — here is a shot from inside the studio looking out on the last few bits of the woodpile before I chopped it up. The payment? My wrists and fingers hurt after excessive bouts of repetitive stress, e.g., chopping wood. I think the picture is pretty though: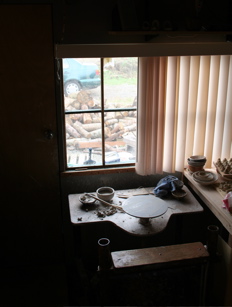 enlarge