In this episode of the Firing Log, I spoke with Malcolm Greenwood, an Australian potter who made the transition from respectable work to full time potter almost two decades ago. Download the episode directly or through iTunes (mp3, 54:40, 50.1 mb).
Note: The iTunes link requires iTunes to be installed on your computer. If you do not have iTunes, use the "direct" link — it is probably most convenient to right click the link, choose "save as" from the context menu, and then listen to the file in your preferred player after it has downloaded.

UPDATE (Aug 23, 2007): Malcolm's woodfired ceramic art is now available for sale in the Oten Gallery, detailed photogallery here.
Malcolm Greenwood entered adult life with a responsible education and the type of work any mother would wish for he son. After serving an apprenticeship as a fitter and machinist, completing a certificate course in Mechanical Engineering, and earning a degree in Business Administration from the University of Massachusetts in 1976, he was involved with and managed factories engaged in the manufacture of sanitary napkins, surgical instruments, robots, and fasteners. While this work took him to interesting places, including Nigeria, Africa, he never lost the interest in pottery he developed while studying with Mokoto Yabe after completing college (also see this Ceramics Monthly article about Mokoto Yabe, pdf).
In a life changing experience, Malcolm lost his real job and decided to turn his pottery hobby into a livelihood. The year was 1989 and he has been working hard at what he loves ever since. Gas fired glaze ware pays his bills and it is easy to see why it has found favor with chefs and food magazines throughout Australia. When you look at a teapot such the following, thrown off the hump, you are first struck with its lovely shape, and then impressed with the skill it took to throw something so wide without it collapsing:
View Malcolm's photogallery album.
While his gas fired ware encompasses the majority of his business, Malcolm has been firing with wood for ages. He built a wood fired raku kiln in his college days, and a side-draft kiln while in Nigeria. When he returned to Australia, he participated in the construction and firing of both an anagama and a noborigama which sadly, do not survive to this day (their demise was due to a rent issue, not a technical failure). Malcolm presently woodfires at Sturt, and has achieved some great results: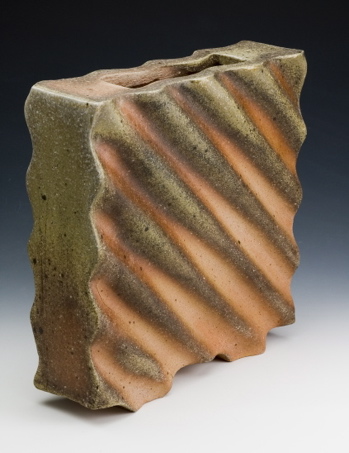 View Malcolm's photogallery album.
View Malcolm's photogallery album.
What interested me most about talking with Malcolm, was the way in which he was able to switch gears and pursue the work he loves. It's stories like his that encourage me to think that someday, I too could abandon my "day job" and survive as a potter. If you have similar dreams, sit back and listen to Malcolm's wisdom — he is proof that it is possible.
Some tangents relating to African pottery:
Article by Ron du Bois, of Oklahoma State University, discussing his experiences when creating a documentary about potters in Nigeria. Includes a number of pictures of the process and the results. Note that the pictures in the article are thumbnails for larger size shots and the article is two pages long — link to second page at the bottom.
Professor Christopher Roy (University of Iowa) has an interesting site purporting to have video clips of various African pottery techniques. Based on other content from the site, these clips may be from Burkina Faso, a country a little to the NW of Nigeria. I haven't been able to actually get the clips to download, but hopefully that is just a temporary issue.