Wood" (in quotes because I actually start w/ charcoal briquettes — insert while burner is running a couple at a time) started going into the kiln on March 29 at 5:50 am. Right now, March 30, 2006 at 10:15 am, the kiln is hovering around 40-41 mV and has been since the middle of last night — giving off some color as well: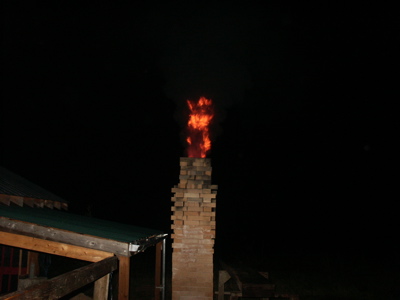 The ground is mostly done steaming and burning. That new dirt I spread? Well, I've spent the last day smelling all the organic components burn off. Even earlier this morning the ground was steaming strongly but I think it's about dried out now. When it dries out enough, the kiln temperature should rise again. Pushing it doesn't make it happen faster, but it will tire you out. The kiln get to the temperature it wants to be at, whenever it wants to get there. Here's a steam shot taken before the wood burning really got underway: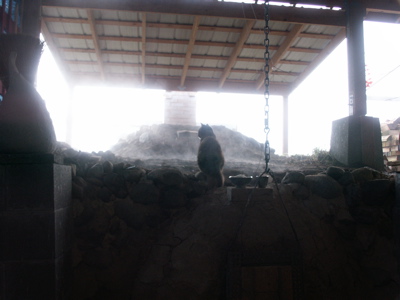 I think the ground is pretty well dried because the "stripe" effect is gone. The ground right above the center-line of the kiln dries first. Then, the ground to the outside of the point above the kiln's foundation dries. Finally, the area directly above the foundation also dries out. Deep water moves up through that region and keeps it moist. When that area dries out, the deep water is also dried.
Here's a shot of the stripe effect: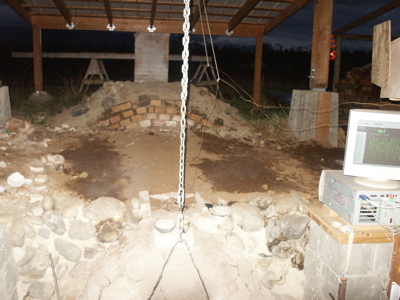 I'm going to bed now, 10:47 am.