Today was wadding (FN 1) day, among other things. This is my recipie (all measures are by volume, not weight):
2 parts silica
2 parts grog
3 parts fireclay
5 parts rice bran
Zero parts mouse droppings
I bought a new sack of rice bran today. I like to use bran for my wadding because 1) I can get it, and 2) it works great. It's important to have a reliable source for any raw materials you use. Apparently, rice bran is fed to horses to give them a shiny coat which means I can get it for $16.99 at a local feed store. I wish they had a $10.99 sack though. At 50 pounds, I don't really know what to do with it all.
The last time I bought rice bran, I stored the leftovers (most of the sack to be precise) for the next firing. The next firing rolled around and what should I find — a sack of moldy bran dotted with black beads of mouse stuff. I sighed, did my ineffectual best to separate the little gifts as well as I could, and mixed up my wadding. The nice thing about this fresh sack of bran: no mouse dirt. I think I'll just give the bran leftovers to the neighbors this time — they have horses — and I'm not too keen on mixing up a batch "ick" wadding next fall.
My clay mixer is rather simple. I have two plastic five gallon buckets, a mud mixer (for plaster — look in the sheetrock section of a home store), and a drill. I put some water in a bucket, some clay, mix with the mixer attached to the drill and make a moderately thick slip. Then I simply keep adding materials and water till I have enough. I mix the silica, clay, and grog first. Once that is mixed, I add the bran and give it all a final mixing.
I need to get a corded drill though — I went through three batteries today and still had to resort to using a stick to finish the job. Not easy because once the bran goes in, the stuff has the consistency of old thick oatmeal with a dash of concrete. It smells pretty good though — bready.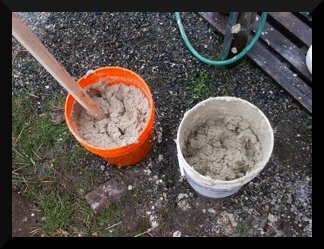 Once I've mixed it up, I dump it out on a plaster table, crank up the heat, and wait for it dry out enough to wedge up. As it gets dry, it gets pretty crumbly so it is important to keep it from drying out too much. It must be moist enough to press into little cones (or big ones depending on the size of the piece it will support). Be aware that the wadding will dry much more quickly than plain old clay when using the wedging table method of clay making.
The rice bran gives it a very odd feel. Even when wet, you can handle it and make it do basic things. Clay without the bran at that consistency would be slightly less workable than room temperature Crisco. With the bran in, it behaves very differently. I've been thinking I might try making a small kiln using the wadding as a roof. I also think the wadding itself has the potential to be used in making pots. Surprisingly, some of the best fire-color to come out of the kiln has been on the wadding, not the pieces. You want to know frustration? That's frustration.
Hmmm … I hope the mouse dung had no responsibility for the great oranges and reds in the previous batch of wadding.
————————————————
1. Wadding is nothing more than lumps of clay placed between the pieces and the kiln shelves. Salt fired and wood fired kilns require wadding to elevate the pieces off the shelves. If the pieces are placed directly on the shelves, they will be forever bonded to the shelves by the atmosphere induced glaze. I use rice bran in my wadding because it burns out. That way when a piece of wadding sticks to a pot, it breaks away fairly easily. Solid clay doesn't work so well. I knocked the feet of at least half my pieces in the first firing because of lousy wadding.